Launching 'How to be… A Design Thinker'
Get excited, Future Me Week is coming! An exciting set of opportunities and activities to enhance or gain new abilities, boost your employability, and even gain new certifications.
Last week we introduced you to four of our 'How to be…' courses which will launch in Future Me Week between 23rd and 27th January 2023. However, we waited until this week to introduce you to the fifth and final course: How to be… a Design Thinker. This one is a little bit special, as for many of you it will form the core of your Future Me Week, and will feed into your work in Semester 2.
Read on to meet the final two members of the Rise team and find out more: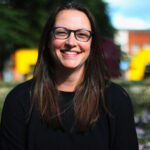 Hi, my name is C-J and I'm an Experiential Learning Tutor for Rise. I'm excited to be sharing our Design Thinking course with you. I am really interested in how people collaborate together, share ideas, develop creative way of thinking and be audacious in tackling tricky problems, while remaining respectful of others' perspectives and open to new learning. Through How to be… A Design Thinker, you will be invited to get your teeth stuck into current issues affecting the sector you are studying and about to enter into. This is an amazing opportunity to address some of these issues and come up with solutions that could make a very big difference. Your participation will also give you great skills to take with you into your futures. I hope you enjoy every minute.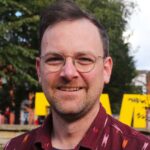 Hi! I'm John and I'm the Programme Lead for Rise, and I've been working with colleagues across the university to embed How to be… A Design Thinker into Future Me Week. It's a really innovative approach to learning; many of you will become members of design thinking teams to address a central problem that has been set by your department. You'll get the opportunity to collaborate in new ways in our timetabled group sessions, whilst developing your own ideas in your workbook. All of this will include opportunities to feed into interactive livestream broadcasts every afternoon during Future Me Week, and there are many ways to engage with these – watch them live from home, come to campus for one of our watch parties or catch up the next day on-demand (or all three!). However you engage, you can do so around your other Future Me Week activities, and you'll benefit from seeing how other teams address their problems and share their thinking over the course of the week. Our aim is to build a university-wide community of design thinkers who are ready to address the problems of the future.
Like the other How to be… courses, all of these resources will remain on the Rise site so you can revisit and reuse them at any time. What we're aiming for is to build a series of toolkits that will be useful throughout your studies and beyond. And you'll earn Rise points and a digital accreditation for taking part, which will set you up to engage further with Rise in Semester 2 and make the most of the incredible opportunities that Rise has to offer.
Everything in Future Me Week has been specifically curated to help you to think about your future and boost your development, so keep an eye on the site as activities go live in the New Year.
We can't wait to see all of the creative ideas you come up with as you unlock your inner Design Thinker.